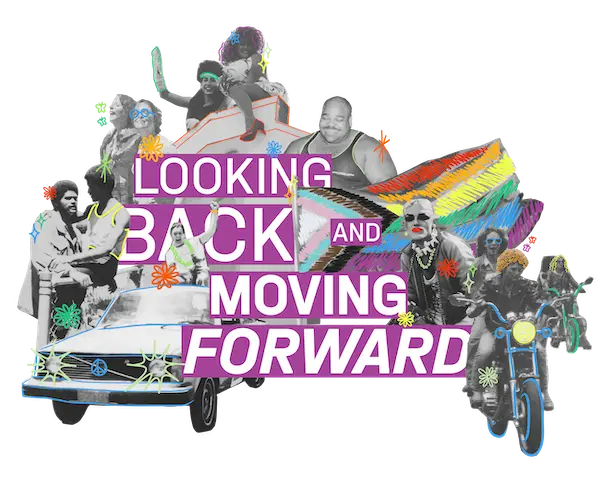 San Francisco Pride Celebration Themes
2023 — Looking Back and Moving Forward
2022 — Love Will Keep Us Together
2021 — All In This Together
2020 — Generations of Hope
2019 — Generations of Resistance
2018 — Generations of Strength
2017 — Celebration of Diversity
2016 — For Racial and Economic Justice
2015 — Equality Without Exception
2014 — Color Our World with Pride
2013 — Embrace, Encourage, Empower
2012 — Global Equality
2011 — In Pride We Trust
2010 — Forty and Fabulous
2009 — To Form a More Perfect Union
2008 — United by Pride, Bound for Equality
2007 — Pride, Not Prejudice
2006 — Commemorate, Educate, Liberate, Celebrate!
2005 — Stand Up, Stand Out, Stand Proud
2004 — Out 4 Justice
2003 — You've Gotta Give Them Hope
2002 — Be Yourself. Change the World.
2001 — Queerific
2000 — It's About Freedom
1999 — Proud Heritage, Powerful Future
1998 — Shakin' It Up
1997 — One Community, Many Faces
1996 — Equality & Justice For All
1995 — A World With Out Borders
1994 — San Francisco to Stonewall: Pride & Protest
1993 — Year of the Queer
1992 — A Simple Matter of Justice
1991 — Hand In Hand Together
1990 — The Future is Ours
1989 — Stonewall 20: A Generation of Pride
1988 — Rightfully Proud
1987 — Proud, Strong, United
1986 — Forward Together, No Turning Back
1985 — Honor Our Past, Secure Our Future
1984 — Unity & More in '84
1983 — Strengthen the Ties, Break the Chains
1982 — Out of Many… One
1981 — Front Line of Freedom
1980 — Liberty and Justice for All
1979 — Our Time Has Come
1978 — Come Out With Joy, Speak Out for Justice
1977 — Gay Frontiers: Past, Present, Future
1976 — United For Freedom, Diversity Is Our Strength
1975 — Join Us, the More Visible We Are, the Stronger We Become
1974 — Gay Freedom by '76
1973 — A Celebration of the Gay Experience
The theme of San Francisco Pride is an important aspect of the event as it serves as a unifying message and a reflection of the current social and political climate. The theme is chosen each year by the San Francisco Pride community, and it serves to inspire and guide the event's organizers and participants.
The theme is an opportunity for the LGBTQ+ community to come together and articulate a collective vision for the future. It can be a call to action, a celebration of progress, or a statement of solidarity. The theme can also serve to raise awareness about specific issues affecting the community, such as health care access, immigration rights, or anti-discrimination legislation.
Ultimately, the theme of San Francisco Pride is a powerful symbol of the LGBTQ+ community's resilience and determination to fight for equality and justice. It provides a platform for the community to express its voice and to be heard by allies, policymakers, and society at large. The theme serves as a reminder that the struggle for LGBTQ+ rights is ongoing, and that the community must remain vigilant, engaged, and united in its pursuit of justice and equality.
Donate to San Francisco Pride!