Selection of 2023 Grand Marshals Has Begun!
Our Grand Marshals represent a mix of individuals and organizations that have made significant contributions to the lesbian, gay, bisexual, transgender community. With the help of community input, Pride selects these groups and individuals in order to honor the work they have put into furthering the causes of LGBTQ+ people.
San Francisco Pride Community Grand Marshals are local heroes who have contributed greatly to the SF Bay Area LGBTQ+ community or to society at large.
African American Art & Culture Complex, Grand Marshal

(Public Poll Choice)

Melanie DeMore, Grand Marshal

(Member's Choice)

Vinny Eng, Grand Marshal

(Public Poll Choice)

Amber Gray, Grand Marshal

(Board Choice)

Andrea Horne, Lifetime Achievement Grand Marshal

(Board Choice)

Socorro "Cori" Moreland, Grand Marshal

(Member's Choice)

Mellanique Robicheaux AKA Black, Grand Marshal

(Board Choice)
Former Grand Marshals
Since 1999, the community-at-large has selected local heroes from the nine-county Bay Area, to be honored at San Francisco Pride. Check out the complete list of diverse and exciting grand marshals, awardees, and honorees, who made us proud and are an inspiration.
Former Grand Marshals PDF
2022 Community Grand Marshals
Images and bios provided by Grand Marshals.
African American Art & Culture Complex organization
Grand Marshal
Public Poll Choice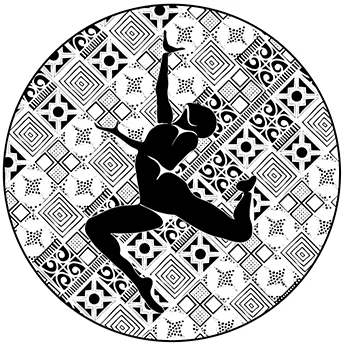 The African American Art & Culture Complex (AAACC) is a space for Black creatives to present, gather and learn, while being a place for all to experience Black Art and Culture. Proudly located in the historic Fillmore/Western Addition neighborhood, we have provided space for Black creatives, healers, and activists all over the Bay Area to create art, host provocative conversations, and bring people together in joy, mourning, and political power. We operate from the compass of, "We have everything we need in our community" and have a commitment to collaborating, commissioning, and hiring Black creatives and administrators to bring solutions, resources, and even more inquiries to the collective.

With programs like our Annual Holiday Fair, the Creative and Professional Development Accelerator and the Creative Leaders Fellowship program, we are proud investors in Black Creatives and believe that providing opportunities to research, reflect, be developed, and further explore topics that matter to them is vital to the legacy, representation, and future of Black Arts and Culture in San Francisco - and beyond.

We continue to be creative about how we provide space to community including our Open Air Gallery, which is open for community members to safely commune and even participate in large scale events like our upcoming My Sister's Keeper event featuring Dr. Angela Davis in May and our third annual San Francisco Black Pride Liberation celebration and the launch of our Season of Black Arts this June. We take pride in doing the work to be a safe space for all of the ways that Black creatives identify, live, and love.


"The African American Art & Culture Complex stands in gratitude of this honor. We welcome everyone to come into the fullness of who YOU are. We consider this a season of joy and liberation, as the AAACC family is committed to being a safe space for all Black people and the ways we live, identify and love. As SF Pride Organization Grand Marshal, we are committed to amplifying safety and the full self-expression of the BIPOC LGBTQIA+ community and ask the broader community, "How are you ensuring, activating, and implementing the same?"
The Team at the African American Art & Culture Complex
---
Melanie DeMore
she/he/they/we
Grand Marshal
Member's Choice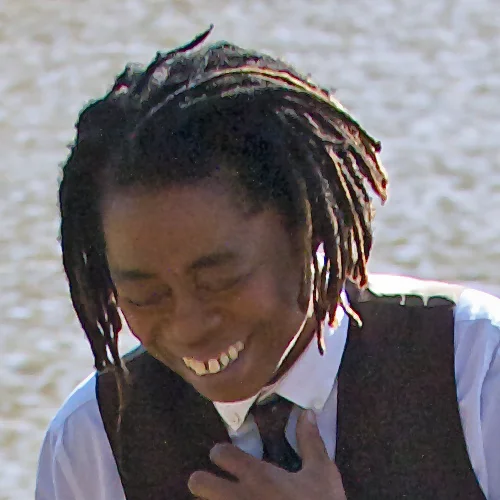 Melanie DeMore is one of the most outstanding vocal artists of today helping to preserve the African American Folk Tradition through song and Gullah stick pounding. She was the subject of a documentary called Stick and Pound which showcases this tradition. She has a career spanning 30 years dedicated to teaching, lecturing, mentoring, conducting, directing, and inspiring children and adults about the power of song as social and political change. Melanie is a sought-after presenter, conductor, and soloist at national and international choral and music festivals, including Festival 500 in Newfoundland, Canada, and Chorus America.

She is sought after as a song/ prayer facilitator, creating spontaneous choirs for the Trinity Institute, the Haas Institute for a Fair and Inclusive Society, and the Powell Foundation, as well as many varied spiritual and faith-based organizations. She is adjunct faculty at the California Institute for Integral Studies, Master teaching artist in music for Cal Performances at UC Berkeley, a featured presenter for SpeakOut! – the Institute for Democratic Education and Culture, and was the Artistic Conductor of The Oakland Children's Community Choir with Living Jazz for nine years.

She was a founding member of the Grammy-nominated Linda Tillery and the Cultural Heritage Choir and has had the pleasure of sharing the stage with such varied artists as Odetta, Richie Havens, Pete Seeger, the Trinity Choir, MUSE Cincinnati Women's Chorus, and many others.

Melanie DeMore is a three-time Grammy nominee, singer/songwriter, composer, conductor, and vocal activist, who believes in the power of voices raised together. She says: "A song can hold you up when there seems to be no ground beneath you."
"My first experience of SF Pride was singing Over The Rainbow on the Main (1990?) Stage. For some reason they couldn't hook my guitar into the sound system so I ended up doing an a cappella version. It was a crystal clear, sunny day, and so strange to hear my voice echoing over the crowd-pretty surreal. I had the pleasure of being one of a bevy of extraordinary women musicians celebrating the 40th Anniversary of Olivia Records on a double-decker bus. It was wonderful to celebrate with Linda Tillery, Mary Watkins, Maria Cora, and many other folks. Special thanks go out to Barbara 'Boo' Price, one of the founders of Michigan Womyn's Music Festival for putting it together."
Melanie DeMore
---
Vinny Eng
he/him/his
Grand Marshal
Public Poll Choice
Vinny Eng is a community organizer focused on directing resources to communities impacted by poverty and police violence. From day one of his arrival to San Francisco 20 years ago, elders in the Queer community have mentored him to understand how the power of love can be a transformative force for good.

Vinny serves on the board of Openhouse, an organization focused on LGBTQIA+ seniors, and he also co-chairs the Policy Committee of the Alice B. Toklas LGBT Democratic Club Board of Directors. Previously, Vinny has served on the City of San Francisco Mental Health Working Group, a citizens' advisory board brought together to examine and push for reforms to end the use of lethal force by police on individuals experiencing mental crises, which resulted in a significant overhaul of SFPD use of force policies in 2016. He is also a member of the Check the LA Sheriff Coalition, a group led by survivors of police violence advancing accountability of the LA Sheriff's Department. He has presented at the Greenlining Institute, the Smithsonian National Museum of American History, and the California Department of Justice.

Currently, he is the Director of Policy and Advocacy at Safer Together, a health equity initiative focused on COVID-19 response and recovery in youth communities. Vinny was also a founding member of SF New Deal, a pandemic relief program aimed at keeping food workers employed while providing meals to vulnerable community members. He worked for over 12 years in restaurants throughout San Francisco and was named a Food and Wine Magazine Sommelier of the Year in 2019.

Vinny grew up in Los Angeles and is the proud son of Cambodian refugees displaced by the Khmer Rouge. Vinny believes in a future where love prevails, where everyone can live as whole beings, and all are treated with care and dignity. If we can imagine it, we can build it.
"Serving as Grand Marshal of SF Pride fills my heart with incredible gratitude for the community elders who fought before and alongside our current generation. Love as we know it today is possible because they stood unwavering in their truth in pursuit of a better world for all of us."
Vinny Eng
---
Amber Gray
she/her/hers
Grand Marshal
Board Choice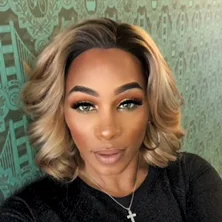 Amber Gray has spent the past 20+ years working in Public Health Department with LGBTQ high-risk homeless youth — a health educator with a mentoring program, a prevention case manager in a residential housing program, and has served as a senior program manager with The Ark Of Refugee, providing HIV education and prevention services for transgender women of color and their partners. She has served as a group facilitator for "Transgender Tuesdays" at the Tom Waddell Health Clinic and mentors youth around principles of independence and empowerment. Amber's dream is to reduce the stigma that continually plagues her community. She is committed to encouraging, motivating, and empowering transgender women of color. Amber is the 2017 recipient of the Ellen Dailey Award with the National Healthcare for the Homeless conference. She has worked diligently to improve the quality of life of trans women of color and marginalized communities. Currently serving as a coordinator for the Behavioral Health Commission where she hopes to make real changes in helping others to receive quality care from public service agencies. Amber hopes to further her efforts to be a part of something bigger than life which platforms her compassion for community.
"Pride is a lifeline for our community. It's the one day of the year when we celebrate the LGBTQ community. It's more about being around nonjudgmental people and having memories together. I am all about our community. We deserve to have a sense of community even for just that weekend."
Amber Gray
---
Andrea Horne
she/her/hers
Lifetime Achievement Grand Marshal
Board Choice
Andrea is originally from Los Angeles but she got her first apartment in her name in San Francisco in 1979 and has lived in San Francisco for the last 40 years off and on, mostly on. In the in-between times, she spent her time being a glamour girl, a global nomad, and a ski bunny. In San Francisco, Andrea has worked as a waitress, a restaurant manager, a published poet, a writer, a bartender, a jazz chanteuse, a background singer, a fashion model, a wife, a dancer, a stripper, social worker, and survived by doing sex work as a runaway teenager. Andrea has spent the last 25 years working for the betterment of the trans community and the greater LGBTQI+ 'children.' Andrea feels that she has had immense privilege and it is her honor to be of service and to make the world a better place for her community. At age 30, Andrea started college and attended both City College and USF. She is a Community Engagement/Program Assistant at Curry Senior Center.

Andrea was living in Honolulu when she moved permanently to San Francisco because she kept visiting friends for months at a time. She followed behind her two good Judys (friends) that had both moved to San Francisco; one was Sylvester the Queen of Disco whom she knew from Los Angeles and the other was Alonzo King, Ph.D., the founder and creative director of SF's Alonzo King's Lines Ballet, one of the world's preeminent ballet companies and schools, whom she knew from New York. Both Alonzo and Sylvester advised Andrea "Girl, you might as well move here, you're always up here anyway", so she did. It was the artists, the arts community, along with the cool weather that kept her here. Karl (the fog) and the temperature are still cool, but Andrea has seen the creative arts community vanish, pushed out by so-called communications advancements. It is the so-called artsy-creative people that make San Francisco the kind of place that people dream of coming to, like Paris, France. From Jack London to Joyce Bryant to The Sisters of Perpetual Indulgence, without our creative artists, who and what is San Francisco?

Her proudest achievement is that she taught her nephew to read, and he is currently a doctoral candidate. Andrea is also a historian and is currently chronicling the cultural influence of Black transgender women in America.
"I am profoundly honored by this recognition bestowed by the SF Pride Board of Directors and my community, and hope that I continue to make y'all proud. I never thought that anyone even noticed what I was doing in the community, but I must admit that it feels really good and it's very humbling to be recognized by your people. I can't stop smiling!"
Andrea Horne
---
Socorro "Cori" Moreland
he/him/his
Grand Marshal
Member's Choice
Born in 1985 to a revolutionary family committed to social justice liberation and the Black power movement, Socorro has been advocating for transgender people of color (TPOC) for over a decade, assisting others with resources, and linking them to others within the community. Socorro started their advocacy and activism as a youth with the Pacific Center for Human Growth, LYRIC Center for LGBTQQ+ Youth, HIFY, SMAAC, and the GSA Network. Socorro has received many awards for his work with TPOC and also has been honored several times within the last ten years for his work within the HIV prevention and care field as well.  Socorro is the founder of Brotherhood510.com an organization designed to empower trans-masculine Black individuals and people of color to access community resources, and make lasting and supportive connections in person and through social media, art and media. Socorro has been instrumental in making sure trans-masculine individuals are seen and heard not only locally but, nationally. Socorro is one of the founders of the Oakland Trans March and is instrumental in inspiring and creating spaces for trans-masculine people in the SF Bay Area.
"To be chosen as Community Grand Marshal is a humbling experience as a Black man, but also a man of transgender experience. I've done so much work around creating spaces, making necessary noise, and bringing my community members to the table, but never expected to be honored at this capacity. To be chosen and to experience this is surreal and is a historical and important step to visibility."
Socorro "Cori" Moreland
---
Mellanique Robicheaux AKA Black
she/her/they/Black
Grand Marshal
Board Choice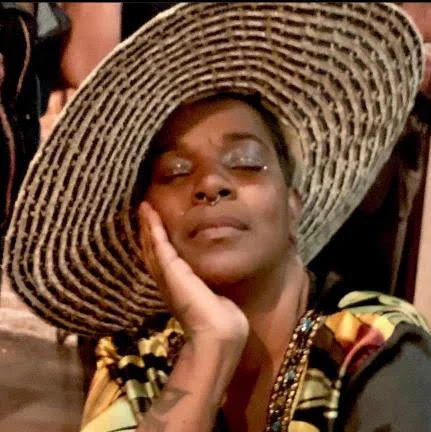 Black has always loved music and while growing up in Houston, she started collecting records. When she moved to the Bay Area in 1991, Black brought her records and a dream of doing music. She recalls seeing Chris C. and Pam the Funkstress perform and knew then that she wanted to be a female DJ. Black learned her craft 30 years ago from Sexy DJ at The Catch One in Los Angeles. Nadeeah helped her hone her skills and taught her how to get gigs. She has played alongside DJs including MAW, Fuse, Digit, J Boogie, Rusty Lazer, and Trackademicks. She has opened for many artists including Medusa, Erykah Badu, The Roots, Patty Duke, Tony Toni Tone, Yo Yo, Bahamadia, Meshell Ndegeocello, Ledisi, Alanis Morissette, Big Freedia, Hot Tub, The Lovemakers, Brandy, Goapele, and Nneka.

Black has been a member of a number of artist collaboratives including Asians, Blacks, and Latinas Uniting New Tribes (A.B.L.U.N.T.) and Herstory. A.B.L.U.N.T. was one of the first hip hop queer women of color clubs in San Francisco. In the 90s it was difficult as a Black woman to get gigs playing hip hop in the queer community because of racism. So, she started her own clubs. She produced great Bay Area's parties like Tight, Rise, Dream EZ, Hella Gay, and Ships in the Night. She named herself Black because she saw how uncomfortable many non-Black people were with saying the word. She wanted people to say the word "Black" as often as possible.

This is her 30th year and she's not done. She's taught fifteen DJs how to spin and mentored countless others. Black has DJed at hundreds of benefits and continues to spin with the same joy that she did when she first began.
"As a Black queer woman DJ, I have used music to bring people together for the past 30 years, and it is an honor to represent this beautiful community as one of the Community Grand Marshals for 2022 Gay Pride."
Mellanique Robicheaux AKA Black
---
Donate to San Francisco Pride
At the forefront of the LGBTQ equal rights movement since 1970, every Pride Celebration and Pride Parade offers an historic moment in our journey to full equality.
Donate Today