Title: SF Pride Golf Tournament Returns to TPC Harding Park
FOR IMMEDIATE RELEASE — 13 September 2023
Author: BOSPAR
SF Pride Golf Tournament Returns to TPC Harding Park
A Fundraiser for the Community Partners Program, the event will feature Excellence in Golf Award Honors recipient Jamie Leno Zimron
San Francisco – Sept. 13 – Get ready to swing into history while honoring excellence in golf! The highly anticipated SF Pride Golf Tournament is back, and it's set to take place at the world-renowned TPC Harding Park, San Francisco's historic golf gem, on Saturday, September 30, preceded by an awards ceremony on Friday, September 29, at the Fairmont Hotel, Nob Hill, San Francisco.
Presented by SF Pride, this prestigious tournament is the first-ever LGBTQ+ sporting event to be officially endorsed by the PGA. Since its inception in 2019, the SF Pride Golf Tournament has become a potent symbol of increased LGBTQ+ representation in the realm of professional athletics.
Each year, the SF Pride Golf Tournament recognizes Excellence In Golf, and this year, the prestigious award will be presented to LPGA Professional Jamie Leno Zimron at the Fairmont Hotel's Crown Room at 7 p.m. on September 29. A 6th-degree Aikido Black Belt, Somatic Psychologist, and champion golfer since age 7, Jamie is a pioneering holistic leader whose contributions to the game and its growth are exceptional. Along with her brother Mark Leno, former San Francisco Supervisor and State Senator, Jamie has been a lifelong LGBTQ+ advocate and activist, always blazing trails and making a difference.
"I am deeply honored and excited to receive the 2023 Excellence in Golf award," said Jamie Leno Zimron. "While sport remains one of the hardest places to come out, the PGA/SF Pride partnership is a brilliant initiative to finally do away with gender stereotyping and hetero-sexist discrimination — in golf and on all the playing fields of life!"
TopGolf is the headline sponsor – the tournament's primary goal is to raise funds for the SF Pride Community Partners Program. This vital initiative supports LGBTQ+ organizations working tirelessly to advance LGBTQ+ rights, equality, and social justice.
"We are thrilled to return to TPC Harding Park for the SF Pride Golf Tournament, and we are especially honored to have the endorsement of the PGA," said Suzanne Ford, Executive Director of SF Pride. "This event embodies the spirit of inclusion and highlights the strides the LGBTQ+ community is making in the world of professional athletics. It's not just about golf; it's about making a difference."
Golf Awards Ceremony Details:
Date: Sept. 29, 7pm
Location, Fairmont Hotel Crown Room, San Francisco
Tournament Event Details:
Date: Saturday, September 30
Time: Shotgun start at 11:00 am
Location: TPC Harding Park
Registration for the event can be found here.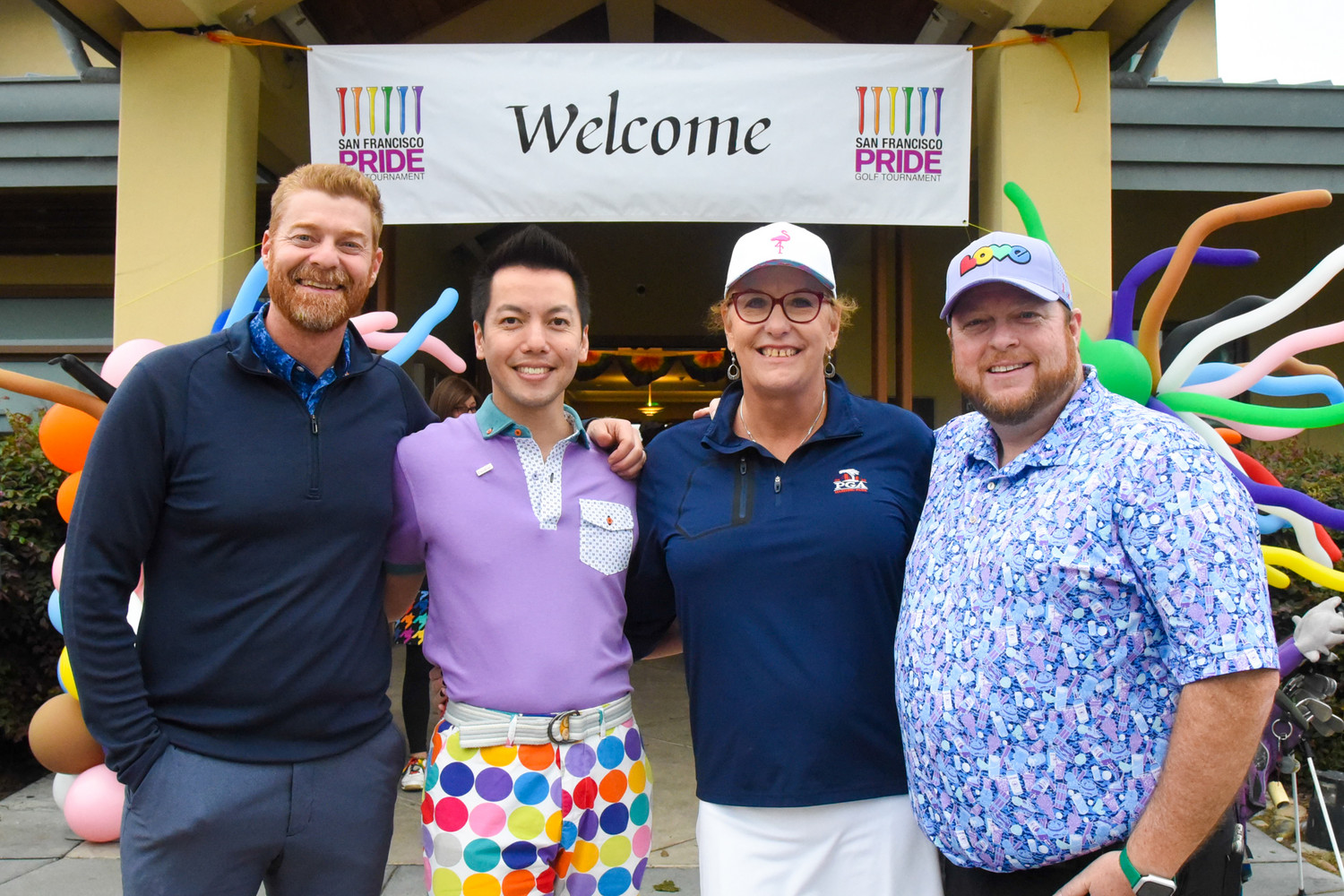 Photo Credit: Cheryl Niesen
Caption: Four founders of SF Pride Golf Tournament. Left to right Greg Fitzgerald, Nguyen Pham, Suzanne Ford and Tom Smith.
About San Francisco Pride
The San Francisco Pride Celebration Committee is a 501(c)3 non-profit organization founded to produce the SF Pride Celebration and Parade. The mission of the organization is to educate the world on LGBTQ+ issues, as well as commemorate the heritage, celebrate the culture and liberate the people of all LGBTQ+ communities. A world leader in the Pride movement, SF Pride is also a grant-giving organization through its Community Partners Program. Since 1997, SF Pride has granted over $3 million dollars in proceeds to local non-profit LGBTQ+ organizations and organizations working on issues related to HIV/AIDS, cancer, homelessness, housing rights and animal welfare.
Media Contact
media@sfpride.org
###