Annual Partnership Opportunities 2023
San Francisco Pride relies on the support of our generous sponsors. Show your commitment to the LGBTQ+ community by becoming an Annual Partner today! Take advantage of the opportunity to showcase your brand and support a great cause and community.
To learn more about sponsorships and becoming a Partner of San Francisco Pride, check out the info below!
Learn more about our Partnership Opportunities for 2023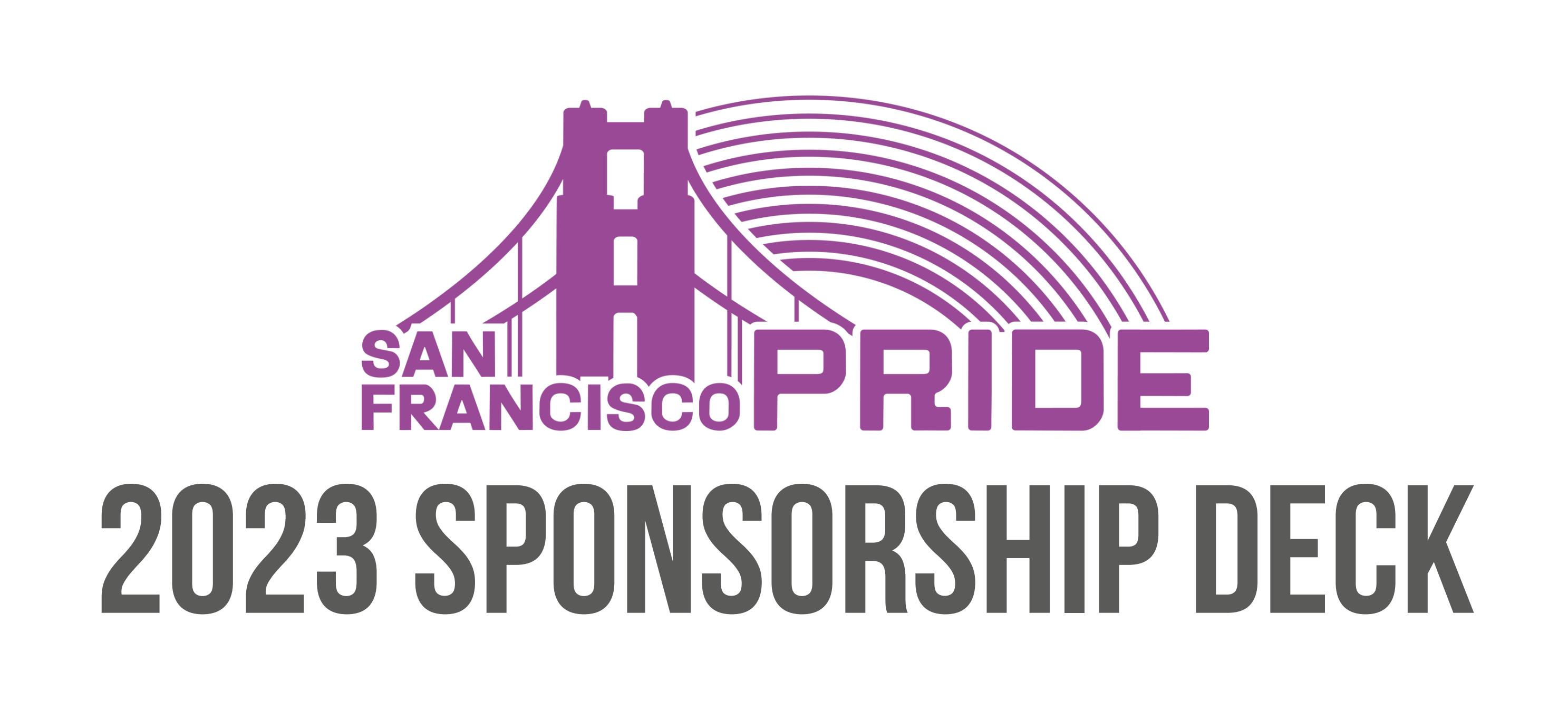 Download PDF
Contact the Partnerships and Giving Team
Suzanne Ford, Interim Executive Director
Carly King, Fulfillment Lead
Email: partnership@sfpride.org
Why we partner with corporate organizations
From in-kind to monetary donations used to support local QTPOC non profits, there are many reasons why a partnership with corporations leads to the overall benefit and increased visibility of the LGBTQIA+ community.
Why does this matter?
Beyond impacting your current employees, corporate accountability demonstrates to the hundreds of thousands of attendees at SF Pride events that we are committed to the LGBTQ+ community's wellbeing.
Partnership Opportunities
Best viewed on larger screens.
Participation Tiers
Advertising Tiers
Activation Tier
$30k
$45k
$60k
$80k
$100k
$150k+
Celebration & Parade
Booth
Parade
Parade & Booth
Parade & Booth(s)
Parade & Booth(s)
Major Activation
Parade Placement
—
Basic
Preferred Placement
First Half
First Third
First Fourth
Logo Recognition
Website
Social Media
Mobile App
Event Signage (June)
Event Signage (Year-Round)
Celebration Site Branding
Advertising
Newsletter
Parade Route
Main Stage Banner Ads
Main Stage Full Screen Ads
TV Spot / Parade Interview
Main Stage Speaking
Ticketing / Experiences
Grandstands
VIP Party
Kickoff & Afterparty
Year-Round Events
Fall Golf Tournament
All Events
Donate to San Francisco Pride
At the forefront of the LGBTQ equal rights movement since 1970, every Pride Celebration and Pride Parade offers an historic moment in our journey to full equality.
Donate Today