Annual Partnership Opportunities 2023
San Francisco Pride's ability to create a world-renowned celebration of LGBTQ+ culture and history is made possible through the support of our gracious sponsors. Join us in demonstrating your unwavering commitment to the community by becoming an Sponsor today. By doing so, you not only showcase your brand but also support a greater cause that enriches and empowers individuals across the globe.
You have the chance to prominently showcase your brand at the event and beyond. Additionally, you contribute to a dynamic and diverse community that celebrates authenticity and embraces diversity. We welcome all partners who share our values and goals.
To learn more about how you can support San Francisco Pride as an Annual Partner, check out the information below. We thank you in advance for your consideration and support!
Learn more about our Partnership Opportunities for 2023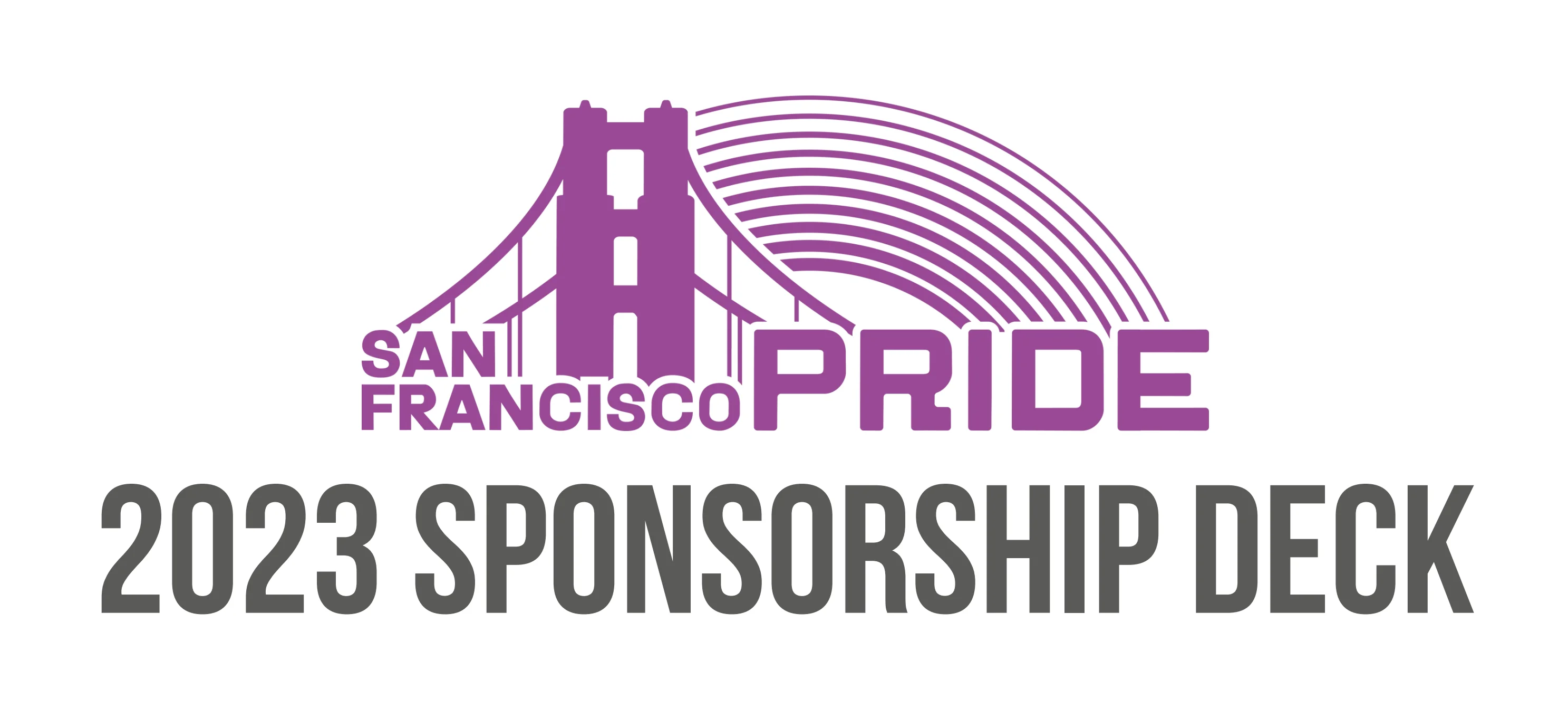 Download PDF
Contact the Partnerships and Giving Team
Suzanne Ford, Executive Director
Carly King, Fulfillment Lead
Email: partnership@sfpride.org
Partnership Opportunities
Best viewed on larger screens.
Participation Tiers
Advertising Tiers
Activation Tier
$30k
$45k
$60k
$80k
$100k
$150k+
Celebration & Parade
Booth
Parade
Parade & Booth
Parade & Booth(s)
Parade & Booth(s)
Major Activation
Parade Placement
—
Basic
Preferred Placement
First Half
First Third
First Fourth
Logo Recognition
Website
Social Media
Mobile App
Event Signage (June)
Event Signage (Year-Round)
Celebration Site Branding
Advertising
Newsletter
Parade Route
Main Stage Banner Ads
Main Stage Full Screen Ads
TV Spot / Parade Interview
Main Stage Speaking
Ticketing / Experiences
Grandstands
VIP Party
Kickoff & Afterparty
Year-Round Events
Fall Golf Tournament
All Events
Why we partner with corporate organizations
The support of our corporate partners helps us to put on one of the largest and most iconic Pride celebrations in the world. Without their support, we would not be able to offer the diverse range of programming and events that we do, or maintain the level of excellence that our attendees have come to expect.
Corporate sponsorship allows us to invest in new initiatives, enhance our existing programs, and ensure that we are able to create a truly inclusive celebration that welcomes all members of the LGBTQ+ community and our allies. The financial support of our corporate partners enables us to continue to advocate for LGBTQ+ rights and social justice issues, while also celebrating our community's rich history and culture.
We recognize the importance of partnering with organizations that share our commitment to social responsibility and inclusivity. We are grateful to all of our corporate partners who help make San Francisco Pride a success year after year. Their support is not only vital to the financial viability of our organization, but also to the continued advancement of LGBTQ+ rights and visibility worldwide.
Why does this matter?
San Francisco Pride is one of the largest and most beloved events in the world, attracting over a million people each year. It is a celebration of the LGBTQ+ community and its rich history, culture, and achievements. But organizing an event of this size requires a significant amount of resources and funding. That's where our corporate sponsorship program comes in.
Corporate sponsorship provides the financial support necessary to make San Francisco Pride a success, but it is not just about the money. We carefully select our corporate partners based on a variety of factors, including their commitment to diversity, equity, and inclusion, and their track record of supporting LGBTQ+ causes. This selectivity helps ensure that our event is aligned with our values and that we are partnering with companies that share our vision for a more inclusive world.
By choosing to support San Francisco Pride, our corporate sponsors demonstrate their commitment to the LGBTQ+ community and their willingness to use their resources to effect positive change. And as a result, they become part of a global movement for equality and justice.
So why does this matter? Because by partnering with companies that share our values, we can create a more inclusive and equitable world for everyone. And that is something worth celebrating.
Employee Resource Groups
At San Francisco Pride, we welcome and appreciate support from both corporations and their employee resource groups (ERGs). However, it is important to understand the difference between the two.
When a corporation provides support directly to our organization, they typically have a much larger budget to work with. This can allow them to make a bigger impact on the event, and may include things like sponsoring one of our stages or events, providing financial support for our parade contingents, or creating large-scale installations or floats.
On the other hand, when a corporation's ERG participates in our parade, they often have a smaller budget to work with, but can still make a significant impact. ERGs are made up of employees who come together to support and advocate for their LGBTQ+ colleagues and allies within the company. By participating in the parade, they are showing their support for the larger LGBTQ+ community and helping to create a more inclusive and accepting workplace culture.
Both types of support are important to us at San Francisco Pride, and we welcome participation from corporations and ERGs alike.