San Francisco Pride Parade
The San Francisco Pride Parade is an annual event that takes place in San Francisco, California, typically held on the last weekend in June. It is the largest LGBTQ+ parade in the world and attracts millions of spectators and participants from all over the globe.
The parade features a diverse range of floats, performers, and community organizations that come together to celebrate and promote LGBTQ+ rights and visibility. The parade is known for its colorful and creative displays, with participants often wearing elaborate costumes and carrying signs and banners with messages of love, acceptance, and equality.
The parade route starts at the Embarcadero and ends at the Civic Center, covering approximately 1.5 miles. Along the way, spectators can enjoy music, dance performances, and other forms of entertainment.
The San Francisco Pride Parade is not just a celebration, but also an important political statement. It has its roots in the LGBTQ+ rights movement and continues to serve as a platform for advocacy and activism. The parade brings together people from all walks of life, uniting them under the common goal of promoting equality and social justice for all.
Participating in the San Francisco Pride Parade is a thrilling and unforgettable experience. The energy is electrifying as you march through the heart of the city with thousands of other individuals, all coming together to celebrate the LGBTQ+ community. The atmosphere is vibrant and inclusive, with a feeling of acceptance and belonging permeating the entire event.
As you make your way down the parade route, you will be cheered on by an enthusiastic and supportive crowd, waving rainbow flags and cheering as you pass by. The streets are lined with vendors and performers, adding to the festive atmosphere. The diversity of participants is truly inspiring, with people of all ages, backgrounds, and identities coming together to celebrate their pride.
Being a part of the San Francisco Pride Parade is not just about having fun - it is also a powerful statement of visibility and unity for the LGBTQ+ community. It is a chance to show the world that we will not be silenced or pushed back into the shadows, and that we will continue to fight for equality and justice. Overall, participating in the San Francisco Pride Parade is an incredible experience that everyone should have at least once in their lifetime.
Participating in the San Francisco Pride Parade is a transformative experience, one that empowers individuals to stand up for their beliefs and express themselves freely without fear of judgment or discrimination. The parade provides a space for LGBTQ+ individuals and allies to come together, celebrate their identities, and march in solidarity for a more just and equitable world.
The energy of the parade is electric, as participants move through the streets with colorful floats, lively music, and vibrant costumes. The atmosphere is one of joy and acceptance, with the cheers of the crowd serving as a reminder that we are not alone in our struggles. For many, the parade is a moment of catharsis, a chance to cast off the shame and fear that often comes with being a marginalized person in society.
Beyond the celebration, the San Francisco Pride Parade is also a powerful political statement. It is a reminder that the fight for LGBTQ+ rights is far from over and that we must continue to push for progress and demand equality. Participants in the parade carry signs, chant slogans, and raise their voices in solidarity, demanding recognition and respect for their communities. The parade serves as a call to action, inspiring individuals to take up the mantle of advocacy and continue fighting for a world where all are free to live as their true selves.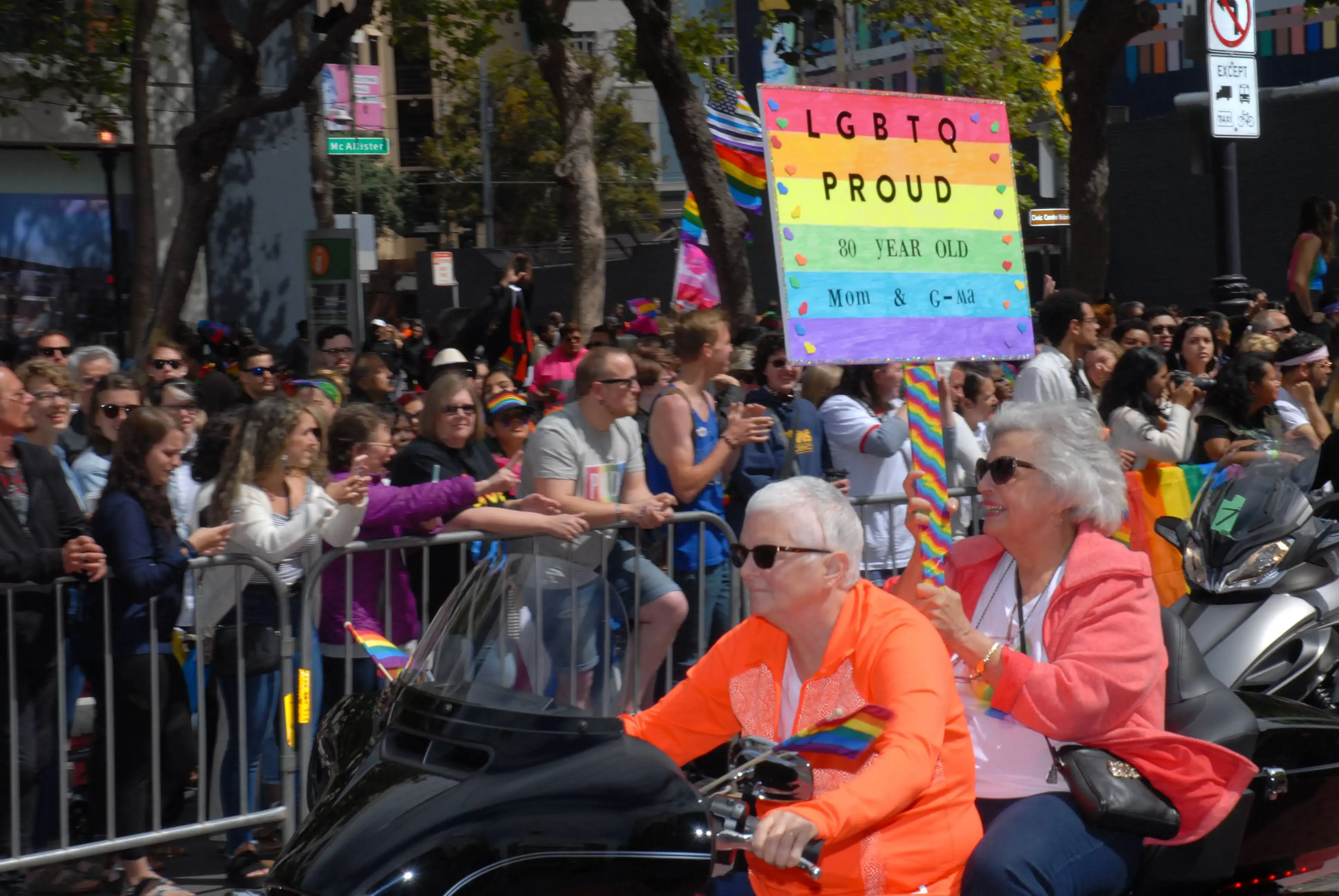 Hult International Business School
Lep Shane, National Parks
University of San Francisco Pride Alumni
Raha International (School)
Joel Engardio, SF Board of Supervisors
Assemblymember Matt Haney
San Francisco Bay Area Curling Club
San Francisco Gay Men's Chorus
Southeast Asian Community Center
Friends of Harvey Milk Plaza
Bay Area American Indian Two-Spirits (BAAITS)
Tenderloin Neighborhood Development Corporation
San Francisco Leather Pride
Jake Borelli, Celebrity Grand Marshal
Paul Aguilar, Community Grand MArshal
Palm Bay - Confetti Sweet Wine
Cathedral School for Boys
San Francisco Lesbian/Gay Freedom Band
Parker Institute for Cancer Immunotherapy
Lycee Francais De San Francisco (LFSF)
Rob Bonta, Attorney General
Drag Story Hour - Bay Area Chapter 2023, Community Grand Marshal
Consulate General of Mexico
Heavy Petting Zoo Art Car
London Breed, Mayor of San Francisco
Bay Area Bisexual Network
Alliance Health Project UCSF
Lavender Youth Recreation and Information Cernter inc
San Francisco Public Library
Northern California Peace Corps Association
This is Jane Project, Celebrating The Legacy of Compassionate Cannabis
Sisters of Perpetual Indulgence
United Methodist Churches of SF
Consulate General of Canada
SFO International Airport
Dr. Nasser Mohamed, Community Grand Marshal
Matt Dorsey, Board of Supervisors
San Francisco LGBT Community Center
Paul Aguilar, Community Grand Marshal
San Francisco Sheriff's Department
Bay Area Independent Schools
American Legion Alexander Hamilton Post 448
Seneca Family of Agencies
California Psychological Association
Honey Mahogany, Community Grand Marshal
Breonna McCree, Community Grand Marshal
Muttville Senior Dog Rescue
Epworth United Methodist Church
Planned Parenthood Northern California
San Francisco Bicycle Coalition
David Chiu, SF City Attorney
Jose Cisneros, Office of the Treasurer and Tax Collector
Imperial Council of San Francisco, Inc.
University of the Pacific
UNITED FOOD COMMERCIAL WORKERS/LOCAL 5
City of Fremont Human Relations Commission
Taiwanese Americans for Equality
San Francisco Pride Board of Directors Resistance Contingent
San Francisco City and County - Dept Human Resources
Manohar Raju, SF Public Defender
International Order of Odd Fellows
Rafael Mandelman, SF Board of Supervisors
San Francisco Community Health Center
San Francisco Waldorf School
Catherine Stefani For Assembly 2024
Brooke Jenkins, San Francisco District Attorney's Office
Scott Wiener, CA State Senator
D'arcy Drollinger Drag Laurieate
Scouts for Equality - Golden Gate Chapter
Mission Cultural Center for Latino Arts
Global Transgender Safety Tasks Force USA Inc
Joaquin Torres, Office of Assessor-Recorder
Peninsula Jewish Community Center (PJCC)
San Francisco Ducal Court
San Francisco Unified School District
JP Morgan Chase Pride Business Resource Group
Dollar Tree/ Family Dollar
Ahsha Safai, SF Board of Supervisors
Shamann Walton, SF Board of Supervisors
Laura Lala-Chávez, Community Grand Marshal
Myrna Melgar, SF Board of Supervisors
San Francisco Veg Society
David J. Canepa, San Mateo County Supervisor
Coldwell Banker Norcal DEI Network
SF Police Officers Alliance
Nancy Pelosi, Speaker Emerita
Eleni Kounalakis, Lieutentant Gov.
Department of Human Services