Pride Movie Night at Oracle Park

Friday & Saturday, June 11-12
THIS EVENT HAS ENDED. THANK YOU TO EVERYONE THAT ATTENDED, AND FOR THE GENEROUS SUPPORT OF OUR PARTNERS.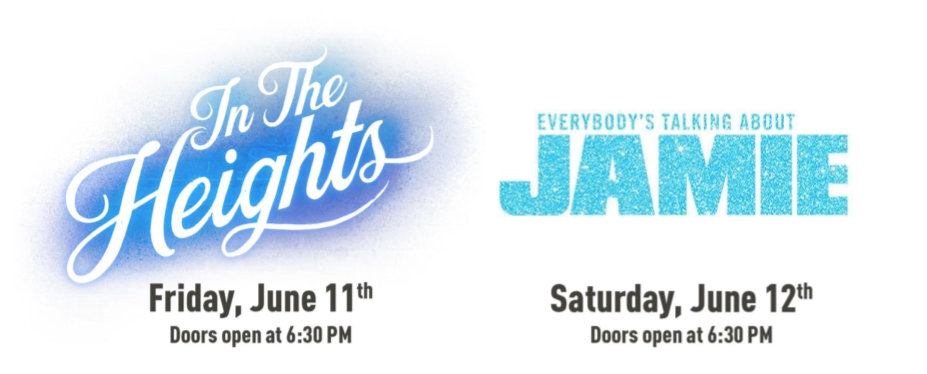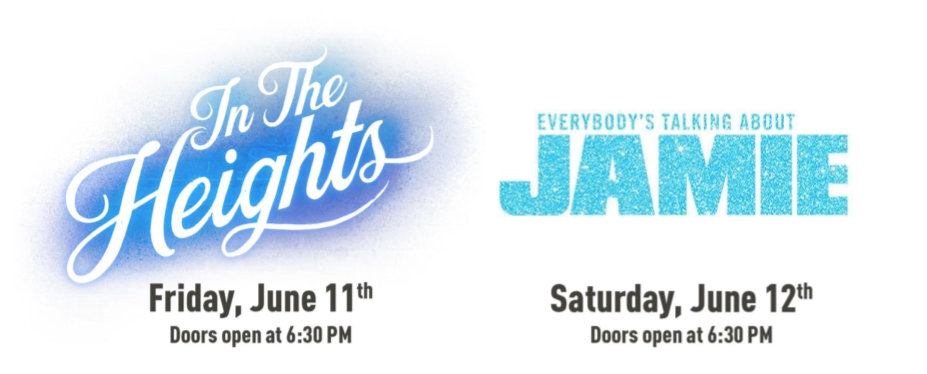 We are excited for the first-ever SF Pride Movie Night at Oracle Park during the #SFPride51 celebration! Join us for an evening (or two!) of movie premieres, popcorn, live and virtual entertainment, and special appearances before the screening each night as we celebrate San Francisco and our LGBTQ+ communities together.
Ticket Descriptions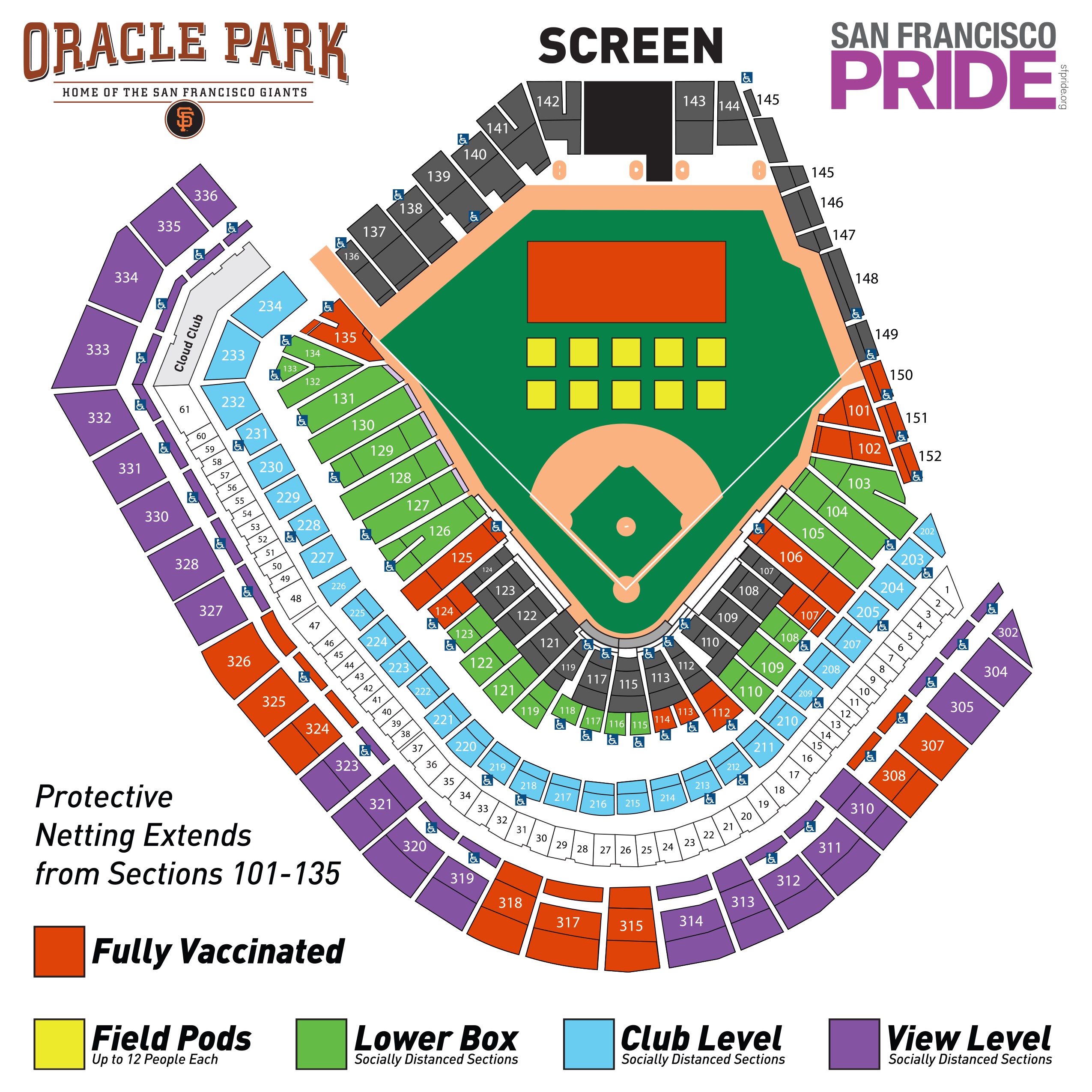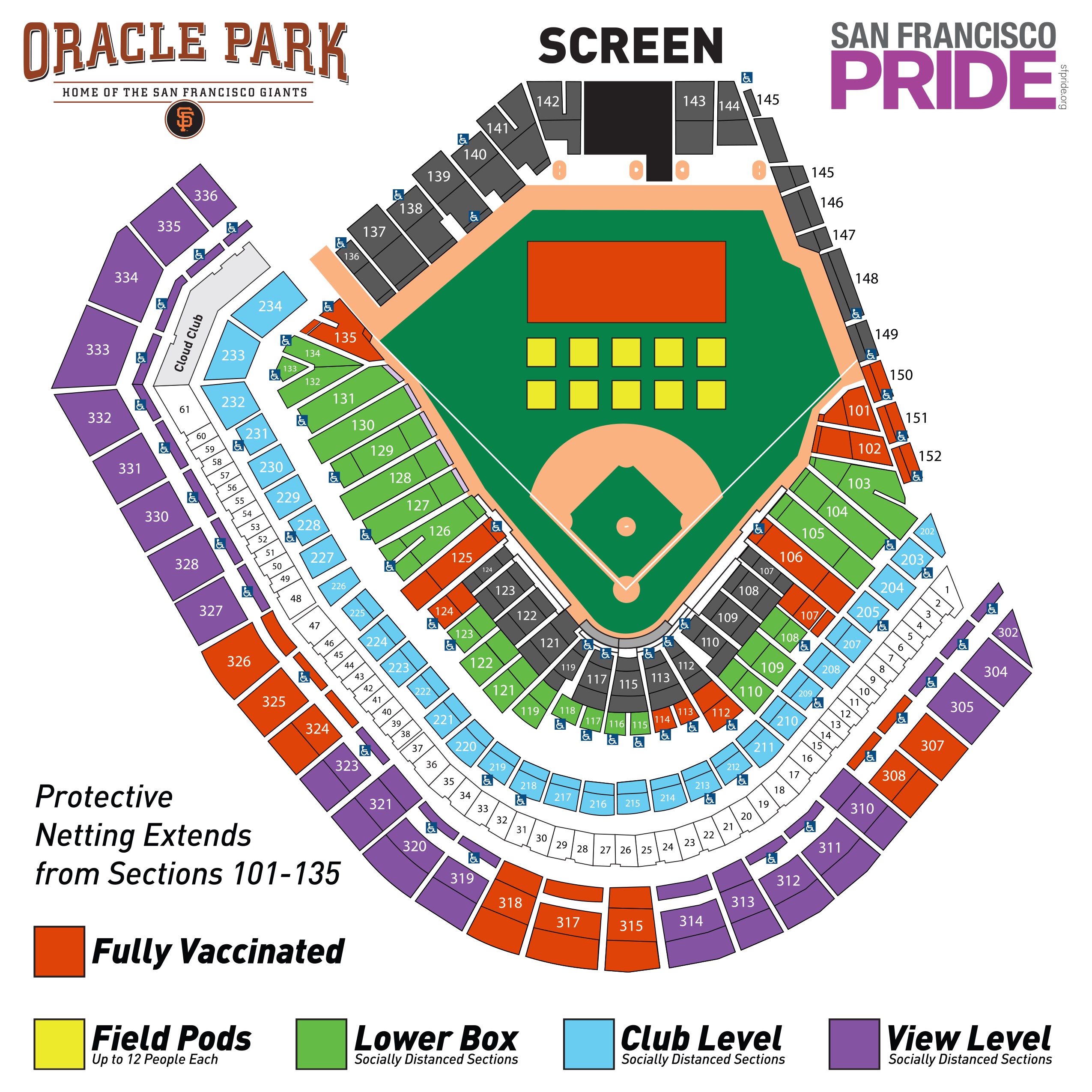 View Level:

Starting at $19.99 + taxes & fees, View Level seats offer great views of the scoreboard & field. View Level ticket holders will have access to F&B options on their level. No need to walk up and down pesky stairs! Socially distanced and vaccinated only seats are available.

Lower Box:

Starting at $24.99 + taxes & fees, Lower Box seats offer excellent views of the scoreboard and field. To secure your spot in the Lower Box, purchase a Ticket Voucher, on sale now! We will email you when your vouchers are eligible for redemption ofa specific seat, likely by the beginning of June. Vouchers will be redeemable for socially distanced seats, or seats in vaccinated only sections.

Club Level:

Looking to reserve a specific seat now? Try our Club Level seats starting at $44.99 + taxes & fees. You will be able to select your preferred, socially distanced seating location immediately. The Club Level is an elevated section with a direct view of the scoreboard and San Francisco Bay. Guests will also have access to interior concessions and restrooms. The Club Level only contains socially distanced seats and will not have any vaccinated only sections.

On-field Experience - General Admission:

Starting at $124.99 + taxes & fees, the General Admission On-Field Experience gives you the opportunity to view our pre-show & film right on the historic field at Oracle Park. Each ticket holder will receive a free SF Pride branded blanket & exclusive access to two bar activations located in the Visitor's and Giants' dugouts. This ticket is a vaccinated only experience & will not require social distancing. Masks will still be required according to current County Health Guidelines.

On-Field Experience

Our premium group and hospitality viewing experience, Field Pods start at $2,499.96 + taxes & fees and include twelve (12) tickets to the event. Your pod will be located on the historic field at Oracle Park. Each group will also receive 4 SF Pride branded blankets, 1 alcoholic beverage for each adult over 21 years of age and 1 Welcome Snack Package. On-Field Experience ticket holders will receive bottle and food service from a curated menu. No need to wait in lines! Staff will deliver your food and beverages to your pod directly. Additionally, On-Field Experience holders will have exclusive access to two bar activations located in the Visitor's and Giants' dugouts.
---
Tickets are mobile only, via the MLB Ballpark app. Tickets are only valid for one night. Prices above do not include taxes and fees. For additional information, please reference our FAQ.
Frequently Asked Questions
Where do I enter the ballpark?

Guests with individual tickets will enter Oracle Park via the main entrance at Willie Mays Plaza, on the corner of Third and King streets. Guests who purchased Field Pods will enter via the Portwalk, behind the right field wall along McCovey Cove.
Do I need a negative COVID test to enter the ballpark?

Guests will not be required to show proof of a negative COVID tests or proof of vaccination to enter the ballpark. Within the ticket purchase flow you will see notices reflecting the current ballpark attendance policy for May, which is to require either a negative COVID test or proof of vaccination to enter. We are actively reviewing with the City and Department of Public Health and awaiting potential revisions to this policy for June. We will update this page accordingly.
Are face coverings required at the event?

Ticket holders two (2) years and older will be required to wear a face covering that covers their nose and mouth at all times, except when actively eating or drinking. This applies to Oracle Park staff as well.
What is a Ticket Voucher?

A Ticket Voucher is a digital document that can be redeemed for a Lower Box seat at the event. Once SF Pride and Oracle Park determine the total seating capacity for SF Pride Movie Night, voucher holders will be invited to redeem their ticket vouchers for specific seats in the Lower Box. If you purchased a voucher, you have until June 1 to redeem it for specific seats. After June 1, seats will be assigned automatically and emailed to you.
Is access to Oracle Park contactless?

Yes. Entry to Pride Movie Night is available only through the free MLB Ballpark app, to ensure a contact-free experience.
Is there assigned seating?

Yes, all tickets will have assigned seating. If you purchase a Lower Box ticket voucher, you will be invited to redeem your voucher for a specific seat sometime in early June. If you purchase a Club Level ticket, you will be able to select your seats during the purchase process. If you purchase a Field Pod, your pod number will be assigned to you at the time of purchase.
Socially Distanced Seating

To provide a safe and comfortable environment for all attendees, we have adopted a socially distanced seating model throughout most of Oracle Park. In these sections, seats are sold in pods, in allotments of 2 and 4 tickets. Each pod is positioned a minimum of six (6) feet from other pods in any direction.
Parties larger than 4 can purchase multiple pods in close proximity, but are required to sit in the seats specified on their ticket. Pods cannot be broken up at the time of purchase. All available seats in the pod must be purchased.
How do I access my tickets?

Event tickets are mobile only via the MLB Ballpark app. The free MLB Ballpark app provides a convenient and secure way to use and share mobile tickets, allowing contactless entry (as well as mobile food and beverage orders). Access or forward your tickets prior to arrival. Learn more about mobile ticketing, including step by step instructions on how to access your tickets.
Is my ticket good for both nights (June 11 & 12)?

No, events are sold separately. To attend both nights of the event, you will need to purchase tickets for each showing.
Do children under a certain age needs tickets?

Every attendee must have their own ticket, this helps us keep everybody safe and healthy.
What is the cancellation policy?

All sales are final. Tickets will not be replaced, refunded, or exchanged for any reason.
What if it's really foggy and cold?

The event will take place rain or shine, fog or no fog. We recommend dressing warmly as the entire event will be outdoors, and you know how windy San Francisco can be in June.
Will food and beverage be available for purchase?

Concessions may be ordered from your mobile device. Pickup locations will be available to your closest seated section. Place your order from the Mobile Food Ordering tile on the Team Page of the MLB Ballpark app. Walk-up ordering is also available at all concessions stands. Guests may only eat or drink in their ticketed seats.
What is the bag policy?

In an effort to limit contact points and avoid lines at the gates, Oracle Park enforces the following restrictions regarding bags.

No backpacks
No bags larger than 16"x16"x8"
Jackets and blankets must be worn or carried, and not put into bags
Can I bring my own food and beverage?

Yes, outside food and beverage is permitted at Oracle Park, but make sure all beverages are in plastic and factory-sealed. Alcohol, glass, aluminum, or hard-sided coolers are not allowed. Again, backpacks are also not permitted.
What makes this screening unique?

In 2019, the Giants invested in a brand-new scoreboard, the biggest capital improvement project in the ballpark's history. Measuring 10,800 square feet, it's 45% larger than San Francisco's biggest movie theater and features 4K technology. This is one of the biggest video boards in the country, as well as the premier scoreboard in Major League Baseball. For additional information please refer to our video board specs.
What is allowed on the field?

Guests with Field Pod tickets are welcome to bring blankets, but lawn chairs or any other type of chair are not permitted. We encourage comfortable footwear that will not pierce or damage the grass. High heels are not permitted. Only guests with tickets to a Field Pod are permitted on the Field.
Are there other items that aren't allowed inside Oracle Park?

Please refer to our A-Z guide for a list of prohibited items.
What is the event timeline?

On Friday, June 11, the featured film In the Heights will start at 8 p.m.. On Saturday, June 12, Everybody's Talking about Jamie will start at 8 p.m.. The doors open at 6:30 PM. There will be a variety of pre-show entertainment, so we highly encourage guests to arrive early!
Will the movies be captioned?

Yes, both movies will be captioned, and live ASL interpretation on the big screen for our live content.
Is there Accessible seating?

Accessible seating options are available in both the Lower Box and Club Level.
Where should I park?

Parking will be available in Lot A, at $20 per vehicle. Spaces are sold on a first come, first served basis. We recommend arriving early and giving yourself ample time to get to the ballpark. For additional transportation information, please visit this website.
Can I bike to the event? If so, where do I park my bike?

The San Francisco Bicycle Coalition provide free, secure bicycle parking along the Portwalk, just underneath the right-field foul pole. Bicycle Coalition staff check bikes in and out (almost like a coat check) and watch bikes throughout the event. Cargo and electric bikes, personal kick or electric scooters, and other small personal mobility devices with wheels are also accepted. Shared bikes and scooters are not accepted, nor are larger motorized bikes or scooters.
Hours:

Opens: 6:30 p.m. (Gate opening time)
Closes: 11 p.m. (30 minutes after event ends)
Can I buy tickets on site?

We strongly encourage attendees to buy tickets in advance to ensure that you get a seat. However, we will have a very limited number of tickets available on-site at the Oracle Park box office.
How does this event fit into Frameline45: the San Francisco International LGBTQ+ Film Festival?

The screenings at the ballpark will be some of the first inclusions of this year's film festival! Please visit the Frameline team on the Promenade Level in section 119 behind home plate. They will have a complete list of all the movies, showtimes and theaters to share with you. You can also find information on the Frameline45 website.