Community Affiliate Program
The Community Affiliates Program is open to any 501c3 certified nonprofit organization based in the nine counties of the Bay Area whose mission involves service to lesbian, gay, bisexual, transgender communities, seniors, youth, bullying, housing advocacy, animal welfare/rights, people living with HIV/AIDS, cancer, or homelessness.
Since 1997, San Francisco Pride has distributed over $3.3 million dollars in proceeds – thanks in large part to our beverage sales and donations made at our event gates.
Starting in March 2020, Covid-19 forced us to suspend the annual SF Pride celebration for the next two years (2020 and 2021), but we're coming back this year!
We are now accepting applications for 2022 Community Affiliates!
All community affiliates must commit to a minimum number of volunteers who will donate their time and effort at the SF Pride event. In 2022, Pride takes place on June 25 and 26. The minimum requirement varies from 6 to 12 volunteers and depends on the department for which the partner has been selected. All volunteers must attend volunteer trainings. The number of trainings, as well as locations and dates, will be announced by the relevant department coordinators prior to the event.
Contact affiliates@sfpride.org for more information.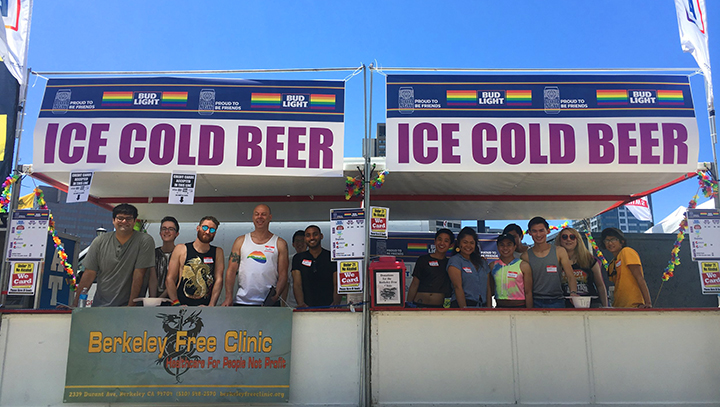 Thank You to our 2019 Community Affiliates
All Blues Rugby Club
American Legion Bob Basker Post 315
Bay Area Derby
Bayard Rustin LGBT Coalition
Berkeley Community Health Project
Berkeley Humane
California Men's Gathering
Castro Country Club
CHEER For Life Foundation (CHEER SF)
City of Refuge UCC
Court of the Great Northwest Imperial Empire
Foggy City Dancers
Folsom Street Events
Grand Ducal Council of SF
Healing Waters Wilderness Adventures
Imperial Council of SF
Imperial San Joaquin Delta Empire
Imperial Star Empire
Inferno Softball (program of Pass Inc)
Lesbian Gay Chorus of SF
Metropolitan Community Church of San Francisco
Nor Cal Registry of Interpreters for the Deaf
Oakland LGBTQ Community Center
Oakland Pride, Inc.
Pagan Alliance
Parable of the Sower Cooperative
Project MORE Foundation
Rainbow Sierrans
San Francisco Gay Basketball Association
San Francisco Gay Softball League
San Francisco Impact Partner
San Francisco Lesbian/Gay Freedom Band
San Francisco Spikes Soccer Club
San Francisco Suicide Prevention
San Francisco Womxn's Flag Football League
SF & SJ Mix DNA
Silicon Valley Gay Softball League
Silicon Valley Pride
St. James Infirmary
Stockton 209 Cares
Success Center San Francisco
Temenos Catholic Workers
Tenderloin Tessie
Turnout
Veterans for Peace Chapter 69