Movie Night at Oracle Park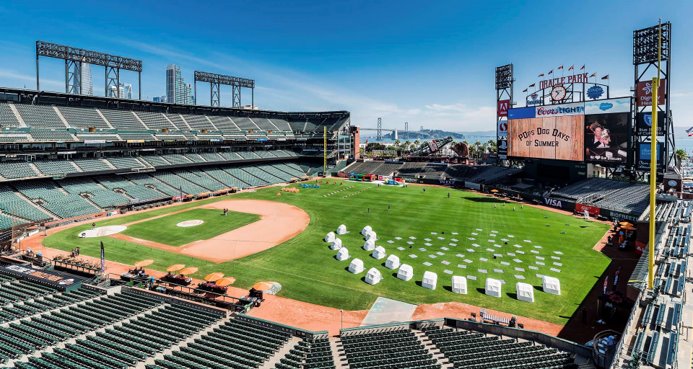 photo courtesy of SF Giants
SF Pride is very excited to collaborate on two film screenings at Oracle Park in cooperation with Frameline and the San Francisco Giants. These ticketed, socially distanced events, subject to state-mandated capacity limits, grow out of SF Pride's longstanding relationship with the nation's longest-running LGBTQ+ film festival.
Join us for an evening (or two!) of movie premiers, popcorn and some special appearances as we celebrate San Francisco and our LGBTQ+ community. All ticket proceeds benefit San Francisco Pride.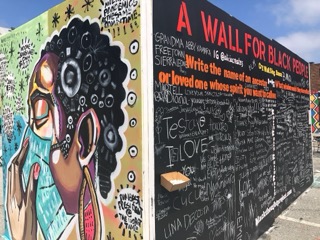 Black Liberation Event with AAACC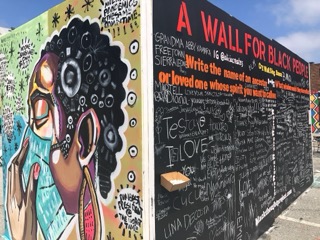 SF Pride will build upon its successful 2020 Marsha P. Johnson Rally with a similar event at the African American Art & Culture Complex (AAACC) on Friday, June 18. That date, the eve of Juneteenth, demonstrates the connection between the fight for LGBTQ+ equality and the struggle for racial justice. We are honored to partner with AAACC and join them in their work of uplifting a marginalized community in the heart of the Western Addition.
Friday, June 18th 2021 — 3pm till 9pm
762 Fulton Street
Performances By Kippy Marks, Micahtron and more! Curated Vendor Experience
For more information call (415) 579-6723
Note: AAACC co-founders Melonie Green and Melorra Green were named SF Pride 2021 Community Grand Marshals.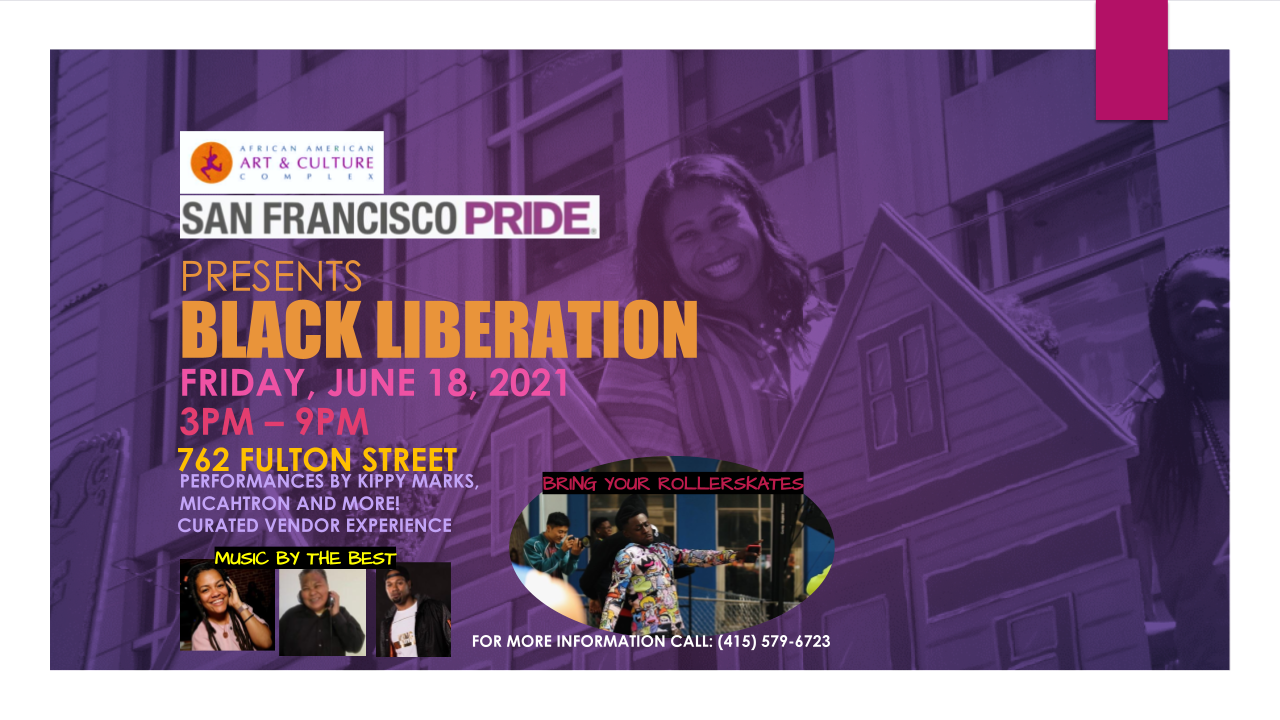 The Board of Directors and staff of the San Francisco LGBT Pride Parade and Celebration are pleased to announce that #SFPride51 will take place throughout the month of June 2021. After a full year of physical distancing and other restrictions, the Bay Area's LGBTQ+ communities will once again be able to gather in limited, in-person events while strictly adhering to current safety protocols.
The theme for this year is "All in This Together," and #SFPride51 will be the best version of what is possible at this time, prioritizing public health while providing numerous opportunities for LGBTQ+ people and allies to experience visibility, solidarity, and joy. Our organization has expanded its programming from the last weekend of June to encompass the whole of Pride month. While we will miss the traditional Parade and Celebration, we invite the entire community to join us at these new and exciting events throughout June.
June 2021 is Pride Month!
2021 Pride Expo Cancelled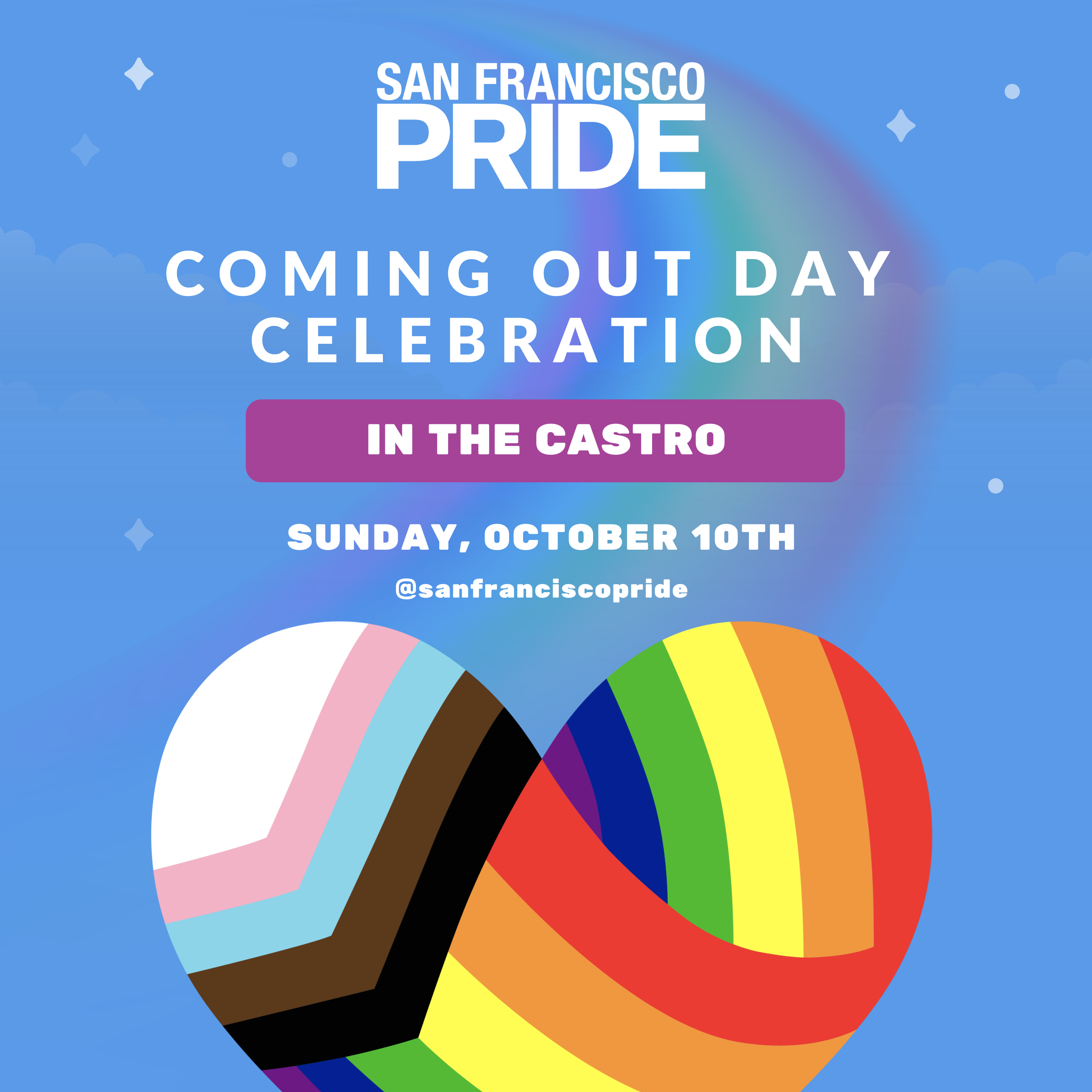 San Francisco Pride had planned on doing a "Pride Expo" for 2021. Along the lines of our typical Celebration in Civic Center, the idea was to give nonprofit organizations and our trusted vendors a proper forum to connect with customers, clients, and constituents. Unfortunately, given the uncertainty surrounding public-health guidelines through the spring, we could not ensure that such an event would be both enjoyable and safe for our communities.
In short, we are unable to produce a Pride Expo this year. At the same time, we're looking ahead! To broaden our reach and bring the spirit of Pride to San Francisco throughout the year, we're working on another large-scale, outdoor, LGBTQ+ event.
SF Pride is excited to invite everyone to our inaugural National Coming Out Day Festival. Set to take place this October in one of San Francisco's most vibrant neighborhoods, it's sure to be an incredible event featuring exhibitors, entertainment, and more.
Exhibitor registration for the National Coming Out Day Festival will begin in late July.
Donate to San Francisco Pride
At the forefront of the LGBTQ equal rights movement since 1970,  every Celebration and Parade offers an historic moment in our journey to full equality.
Donate Today