San Francisco Pride Celebration in 2021
In a typical year, the culmination of San Francisco Pride is the Celebration: a two-day festival in and around Civic Center that includes more than 20 community-programmed stages and venues. The Don Julio Latin Stage, Soul of Pride, Homo Hip-Hop, and the Women's Stage all produce hours of entertainment that showcase the full diversity of the Bay Area's LGBTQ+ communities.
The Main Stage is, of course, the centerpiece. Notable headliners through the years have include Sylvester, Lady Gaga, Margaret Cho, Amara La Negra, The B-52s, and Big Freedia. Historically, the Celebration is where everyone — from younger people questioning their sexuality to veteran activists who worked alongside Harvey Milk, from families to allies — can feel welcome and seen.
Due to ongoing public-health guidelines and social-distancing protocols, we cannot be sure when such large-scale gatherings will once again be safe. The theme for 2021 is "All in This Together," and our Board and Staff are working on exciting alternatives that honor the history and the spirit of San Francisco Pride. We are excited to share the details with you in the weeks to come.
June 2021 is Pride Month!
More information will be available as details are solidified.
Subscribe to our newsletter for the most up-to-date information.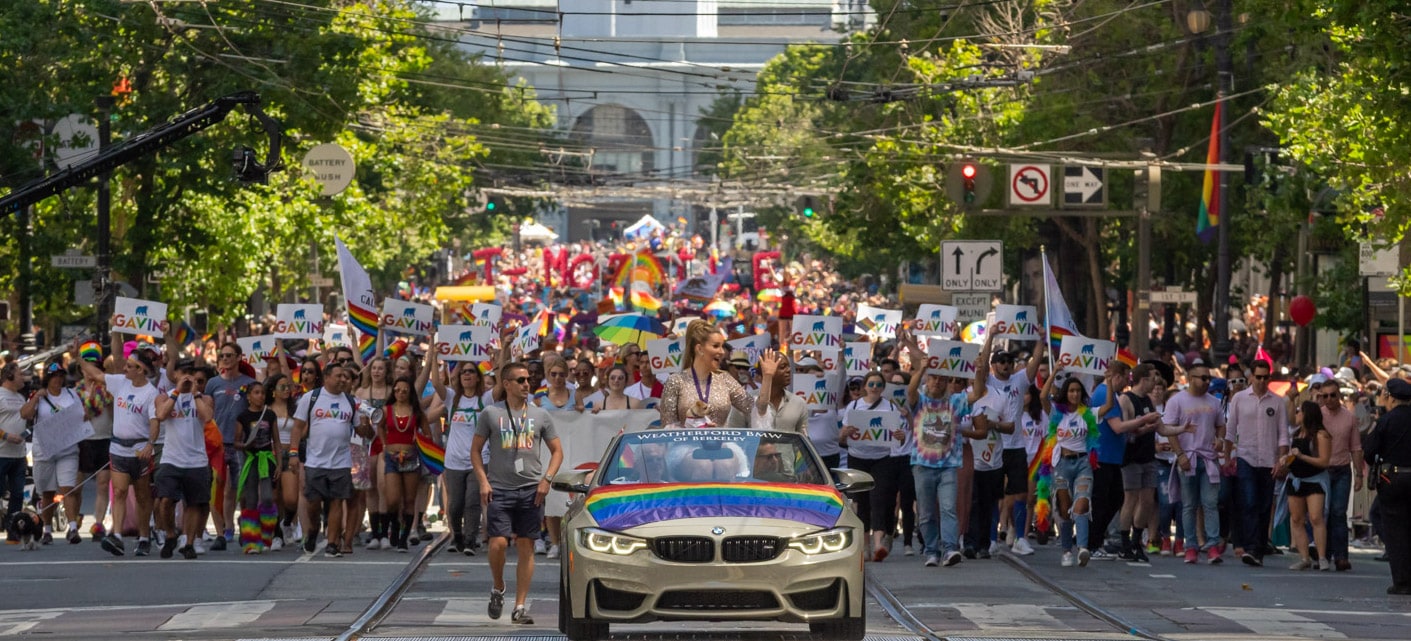 2021 Grand Marshal Suggestions
Our Grand Marshals and Honorees represent a mix of individuals and organizations that have made significant contributions to the lesbian, gay, bisexual, transgender community. With the help of community input, Pride selects these groups and individuals in order to honor the work they have put into furthering the causes of LGBTQ people.
Grand Marshal selection has begun for the 2021 pride season.
Submit Suggestions
Grand Marshal Selection Timeline
Open for suggestions -

Jan Member Meeting

Suggestions closed -

Feb Member Meeting

Public voting -

Feb 17th to March 9th

Member vote -

Mar 10th to March 19th

Board Selection -

Mar 19th to Apr 2nd

Media Alert, 2021 CGMs -

Week of Apr 5th
Donate to San Francisco Pride
At the forefront of the LGBTQ equal rights movement since 1970,  every Celebration and Parade offers an historic moment in our journey to full equality.
Donate Today